Lancereal Overhaul Fairfield Torque Hub From An Aerial Work Platform
Lancereal support the aerial work platform aftermarket as the certified distributor and repair centre for Fairfield Torque Hub.
The Fairfield Torque Hub is a well-known brand of planetary drive in the aerial work platform market. These gearboxes have been used by original machine manufacturers such as JLG, Genie and Haulotte for numerous years on a wide range of models of aerial lifts, scissor lifts and telehandlers. These leading manufacturers of lifting equipment have machines in operation all over the world. The Torque hub can be found on both the swing and wheel drives of both engine and electric driven machines. As the certified distributor and repair centre for Fairfield Torque Hub we often receive requests from end users to inspect, service and repair drives from this type of equipment.
Project initiation
A recent project undertaken was for a swing drive assembly (Genie ref:88921) from an old Genie Z-80/60 Diesel driven, articulated boom lift. This particular access platform rental company contacted us to ask whether we can provide support in getting this articulated boom lift back up and running. The platform was completely out of use as the swing drive was no longer functional. The customer had already dismantled the gearbox and motor from the machine and were therefore able to organise the shipment of the part to our facility immediately in order to avoid further down time of the vehicle.
External examination and inspection
Upon arrival, the Fairfield Torque Hub gearbox and hydraulic motor assembly was inspected for any signs of external wear or damage. Externally, the 10 year old gearbox and motor looked in good condition with no signs of damage to the housing or spindle. Typically, before dismantling the gearboxes a pressure test and roll test would always be performed. The pressure test identifies any potential oil leaks with the unit due to degraded or damaged seals. A roll test is performed on a test rig to identify any suspected damage to the gears or bearings.
Internal inspection and identification of root cause
The next stage was to dismantle the planetary drive to investigate further. The motor was removed and there were signs of perishing and deformation to the mating o-ring. Upon removal of the piston the brake pack was revealed where evidence of wear to the steel and friction rotors was identified. Further investigation revealed that the cluster gears contained within the carrier assembly were in very tight mesh with the ring gear. This is typical for a gearbox that has been dismantled and then reassembled without appropriate timing of the gears. This causes seizing of the gears and in some instances can lead to catastrophic failures resulting in irreparable damage to the gearbox.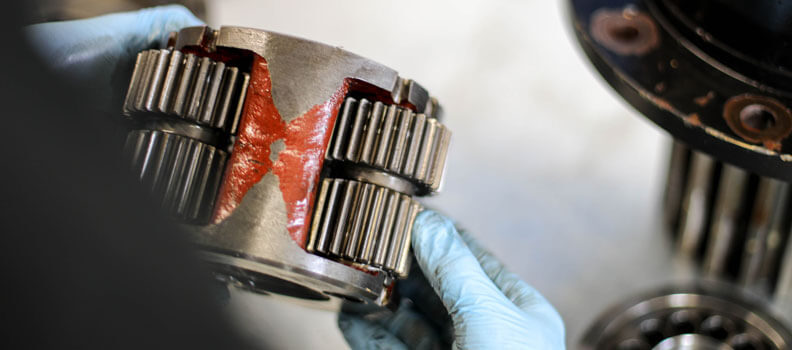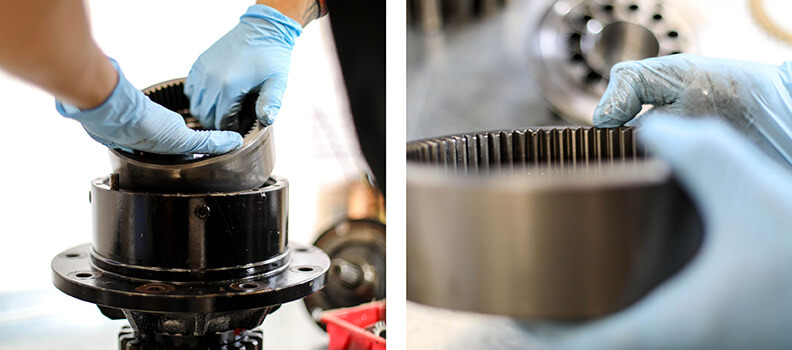 Reporting to the customer
Following inspection of any gearboxes that we have returned to us, a written report is submitted to our customers detailing the identified root cause of the failure. After years of technical experience working with the complete Fairfield Torque Hub range, we are able to advise how this damage may have occurred e.g. natural wear, low oil or overload. At this stage photographs are taken of the key components contributing to the failure and costings for parts and labour are calculated. Until a full report is submitted and has been reviewed, there is no commitment required from the customer to proceed with the refurbishment. We provide guidance as to whether it is economically viable to repair a gearbox that has extensive damage. In most instances we are able to repair the gearboxes to full working order, cost effectively.
Overhaul and re-assembly
All parts used in our work are genuine Torque Hub parts. We hold stock of a wide range of parts in order to provide a quick turn around to customers. For parts which are not readily available we receive shipments from the factory on a weekly basis therefore our customers are never waiting too long. All damaged or worn parts are replaced and parts which are in good condition are cleaned and maintained. In this instance the repair consisted of; replacing all the seals, installation of a new brake pack and correct timing of the gears and reassembly of the unit.
Getting our customers back off the ground!
We know that for our customers, having machinery down can be a very costly situation and time means money! We therefore aim to provide a high quality service at a quick pace with our technical engineers working daily on gearbox repairs. In this instance we were able to turn around the repair within a 2 week period. Before dispatching the newly refurbished gearbox we ensured that the transmission was in full working order. A pressure and roll test were performed to check the functionality and the performance of the gearbox. Our customer also benefitted from our 1 year warranty which we aim to offer to all of our customers when carrying out refurbishment work.
---
Get in touch
We act as a first point of contact for the refurbishment, repair and sourcing of spare parts for our wide range of gear units and clutches; including genuine gearbox replacement parts for all Fairfield, ZAE, Bockwoldt and Amsbeck products. We also offer expert advice; from the selection and supply of standard gearbox products to the design and manufacture of a complete bespoke solution. Whether you're a global company or an individual looking for some technical advice, our experienced support team are on hand to discuss a complete solution for your requirements.