Lancereal Provide On-site Gearbox Repair To The Oil And Gas Industry
Lancereal recently visited a customer site in Brazil to carry out the on-site gearbox repair of 8 gearboxes that required maintenance and upgrade work.
As an authorised distributor for Fairfield Torque hub we support the manufacturers of industrial machinery across many sectors. For over 12 years we have supplied 2-speed Planetary Torque Hubs for winch drives on logging rigs. The 2-speed, triple stage planetary Torque Hub allows the ability to easily switch between low and high speeds whilst maintaining the required torques of the application. These 2-speed planetary gearboxes are of a complex design and stripping them down, identifying the root cause of a failure and carrying out the on-site gearbox repair is not a straightforward process. Our engineers are experienced in working with these gearboxes and can provide excellent aftermarket support to our customers.
One of our customers whom we supply this product to is a world leading provider of technology for well characterisation and drilling to the oil and gas industry. We stock and supply this product and offer the added value of gearbox repair and refurbishment services. In addition to this we also offer gearbox maintenance training of their engineers at sites all over the world. Our Engineering Manager, Rob Yorke, recently visited a customer site in Brazil to carry out the repair of 8 gearboxes that required maintenance and upgrade work.
The Application
The 2-speed W9T and W12T Torque Hubs are used on the drives for logging winches used on on-shore trucks and off-shore rigs. This equipment is critical for determining drilling performance, wellbore quality and surface formation evaluation. These winches, powered by hydraulic motors, are typically running at high speeds of up to 3500 rpm for long periods of time, therefore temperatures are known to run high during operation. The winch drums are carrying over thousands of metres of cable in order to lower high tech and expensive equipment into the wells. The two hydraulic applied, pressure released clutch packs control the switch between the low speed and high speed operations, in addition to offering a parking brake and neutral mode. The W9T, W12T and W16T gearboxes, ranging from 10,000Nm up to 36,000Nm torque capacity, are also used on various other applications such as the wheel drives for machinery requiring the transition between 2-speeds.
Preparing for the visit
Prior to the maintenance visit to Brazil it was important to gain an understanding of the condition of each gearbox in order to prepare a shipment of parts to the customer site. It is sometimes difficult to gather such information but it is critical to ensure that genuine Torque Hub parts are used. Thorough preparation helps us ensure that time spent on-site is used effectively with no delay to the work being completed. We rely on liaising with our customers in order to gather accurate visual evidence through photography.
In this instance the parts required included general seal, bearing and clutch repair kits, upgrade kits and additional gearing components. Preparing in this way also helps our customers with budgeting the costs of the repair work and it prevents the requirement for additional shipments. At this stage it is also important to check that the customer has available all the necessary tooling and test equipment to perform the work.
Arriving on-site and the initial inspection
Upon arrival, all the units were contained within the workshop along with newly delivered parts. As the customer had already partially stripped down the units with our guidance, is was not possible to begin by performing a pressure test and roll test of the units.
At this stage it is useful to meet with the engineer to understand more about the history of the gearboxes and determine what previous experience they have with working with Torque Hub. The engineers usually work alongside us to gain experience and training in the refurbishment of the units.
The work was carried out in a systematic order based upon the previous information provided for each gearbox. The units were stripped down and manually cleaned with a decreasing agent to remove all debris, sediment and oil. A thorough inspection of each part was performed and all damaged parts were disposed of and replaced with the new parts.
When inspecting it is important to look for evidence of wear to the gearing and bearing components, for example;
signs of pitting or spalling.
damage or wear to the lips seals and o-rings.
general condition of the oil.
the presence of hair line cracks in any of the components.
the integrity of housing.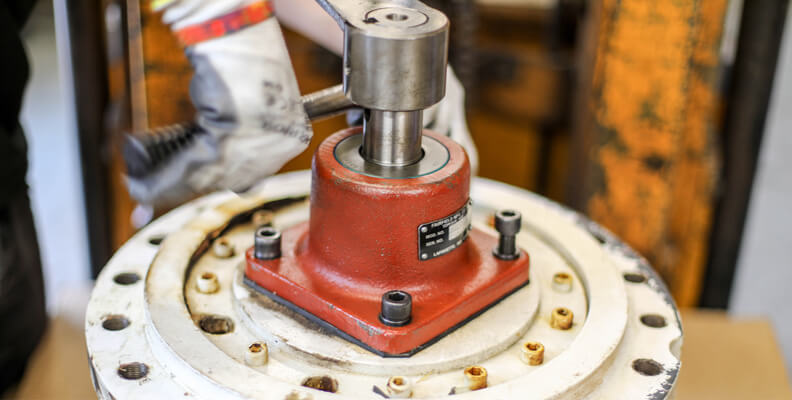 Overhaul and re-assembly
The 8 gearboxes were in variety of conditions resulting in decreased performance or failure of the drive. These units are used on a particularly arduous application and can often be subjected to a lack or maintenance out in the field.
Due to the complexity of the triple stage 2-speed gearbox it is important to have good working knowledge of the transmission when replacing parts and re-assembling the gearbox. Particular care must be taken with the order in which the components are reassembled and accuracy in replacing the seals is crucial. Specialist tooling is required as it is very easy to damage component during reassembly. The refurbishment work in total took 4.5 days with an average of 3-4 hours per unit.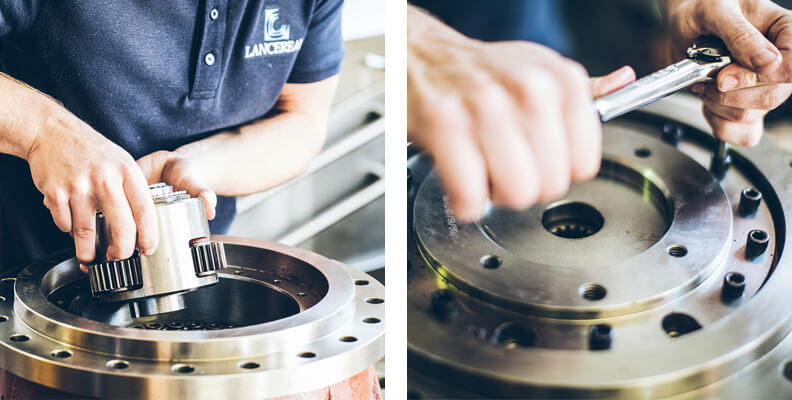 Testing and warranty
Once rebuilt and filled with clean oil, pressure test and roll tests were performed to test the functionality and the performance of the transmission, seals and clutch components. These tests would highlight any incorrect build or damage to parts during reassembly. This ensures that the customer is left with gearboxes that are in full working order and ready to go straight back into the field. The majority of the units were immediately reinstalled on the rigs and a couple were kept in stock as emergency spares. The customer benefited from a 1 year warranty on all units, a guarantee that we aim to offer all of customers when carrying out refurbishment work.
---
Get in touch
We act as a first point of contact for the refurbishment, repair and sourcing of spare parts for our wide range of gear units and clutches; including genuine gearbox replacement parts for all Fairfield, ZAE, Bockwoldt and Amsbeck products. We also offer expert advice; from the selection and supply of standard gearbox products to the design and manufacture of a complete bespoke solution. Whether you're a global company or an individual looking for some technical advice, our experienced support team are on hand to discuss a complete solution for your requirements.